Oxenhope residents and visitors turned out in good number to enjoy the annual village fete on Saturday 18 July.
Despite an adverse forecast the weather held good, making for a very enjoyable afternoon.
The Fell Race, which was the opening event of the fete, attracted 32 runners. It was won by Daniel Cross coming in at 23 minutes 33 seconds. Further results are summarised below.
This year visitors enjoyed a dog agility display by Sowerby Bridge based Ulti-mutts Agility, and a number of visitors had a go with their own dogs, receiving helpful guidance and insights from the trainers.
The afternoon favoured the fairer sex with both the ladies and the girls winning the adult and child tug of war competitions.
Stalls run by different village organisations reported a brisk trade and the fairground rides were enjoyed by the younger children. Haworth Band provided a varied programme of popular melodies and the afternoon concluded with a sellout Duck Race in the beck, followed by a raffle prize draw, with Oxenhope resident Gareth Halsall winning the star prize, an LED TV.
Ken Eastwood, Chair of the Millennium Green Trust, said, "I'd like to thank everyone involved with the fete, including our sponsors, exhibitors and the volunteers who worked tirelessly before, during and after the event. Early indications are that the fete generated a record surplus which will make a much needed contribution to the upkeep of the Millennium Green, for the ongoing enjoyment of the village."
Photographs
View photographs from the fete here.
Fell Race
Race distance 3.3 miles, rising to 500ft
| | | | |
| --- | --- | --- | --- |
| Position | Name | Club | Time |
| 1st Male | Daniel Cross | Hyde Park | 23.33 |
| 2nd Male | Chris Mann | Hyde Park | 23.46 |
| 3rd Male | Lukas Lee | Keighley & Craven AC | 25.09 |
| 1st Female | Helen Glover | Keighley & Craven AC | 24.00 |
| 2nd Female | Rebecca Rogers | Hyde Park | 29.19 |
| 3rd Female | Claire Geeson | Hyde Park | 30.19 |
| 1st Veteran (Over 50) Male | Ken Fox | Hyde Park | 29.50 |
| 1st Veteran (Over 50) Female | Sue Roberts | Todmorden | 36.21 |
| 1st Veteran (Over 40) Female | Paula Williams | Keighley & Craven AC | 35.39 |
| 1st Local Male | Karl Milligan | Marsh Harriers | 28.27 |
| 1st Local Female | Lisa Holmes | Unattached | 32.16 |
Raffle
Winning prize numbers not yet claimed:-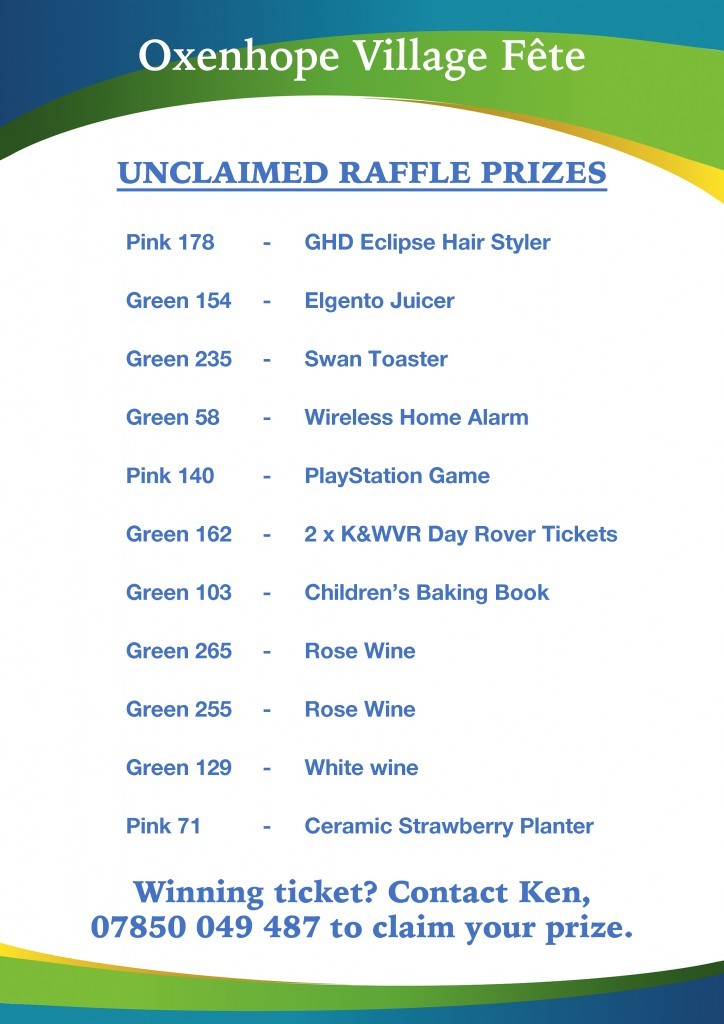 Bob Beattie
C & L Herd Butchers
Co-operative Food
Creative Hearts
Digital Nomads
Ellisons Butchers
George Emmott (Pawsons)
Green Thumb
J A Bailey
New Coley Nurseries
Old Oxenhope Farm
SMJ Falconry & Crafts
Timothy Taylor & Co.
Unique Unisex Hair Studio
Upwood Holiday Park
Whitakers Animal Feeds
The Millennium Green Trust maintains the Green for the enjoyment of all living in or visiting Oxenhope.
Sponsorship income and proceeds from other donations and raffle ticket sales at the fete on the Green create an operating surplus that is used to offset routine maintenance costs.
The surplus is put towards the costs of routine grounds maintenance including grass cutting, tree and path works, miscellaneous repairs and also offsets other costs including insurance.
The Trust does not receive routine funding from Bradford Council, although it has benefitted from small grants from time to time to assist with essential repairs and improvements.
If you would like to make a donation you can do so by making a BACS payment using sort code 30-91-12 and account number 03290973.
If doing so please contact us by email to confirm the donation made.
Many thanks for your support.