An estimated 450 local people enjoyed an afternoon of traditional fun and games at Oxenhope's Village Fete on Saturday 20 July 2013, opened by Kris Hopkins MP. Organisers were delighted to see the turnout after last year's disappointing cancellation of the popular event due to the Millennium Green being water-logged. Jeremy Mackrell MBE, Chair of the Millennium Green Trust, said, "We'd all been hoping for dry weather this year and although it was a little cooler on Saturday we weren't disappointed."
The weather conditions favoured the 35 fell runners who set off from the Arena for the scenic 3.3 mile race. Christian Holmes of Wharfedale won in 22 minutes 48 seconds, breaking the previous record by over a minute.
Sisters Sophie and Phoebe Cowling won first and second prizes in the Kings and Queens themed fancy dress competition, and the winning Coronation cakes were baked by Eleanor Thomas, age 11. The Arena was the scene for children's and families' races and Tugs of War. A performance by local children singing songs, with the Reverend Nigel Wright playing guitar, was also enjoyed by the onlookers despite a failure of the sound system.
Stalls run by different village organisations reported a brisk trade and the fairground rides were enjoyed by the younger children. Haworth Band provided a varied programme of popular melodies and the afternoon concluded with a sellout number of competitors for the Duck Race in the Beck, won by Katie Barber.
Ken Eastwood, Millennium Green Trustee, said, "On behalf of the Trust I'd like to thank everyone involved, including the volunteers who worked tirelessly before and after the event. It was a great village fete, enjoyed by all."
View the photographs here.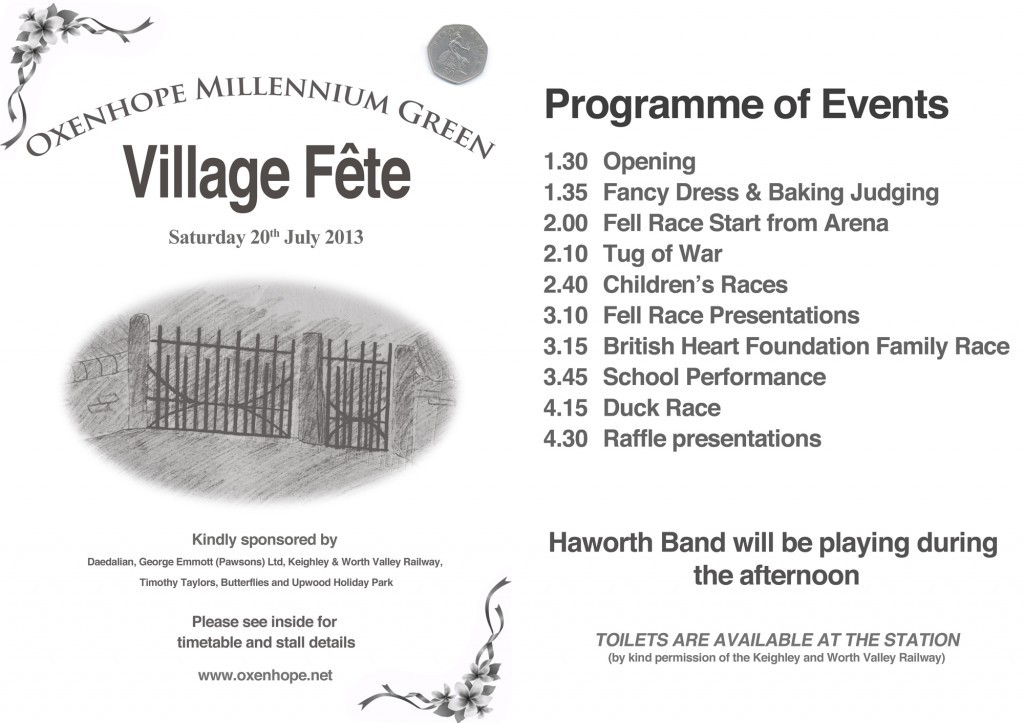 Results of the 3.3 mile fell race, organised by Keighley & Craven Athletics Club
1st Man Christian Holmes 22:48 (new course record)
2nd Man Liam Gough 24:00
3rd Man Gary Chapman 24:12
1st Lady Amanda Sterling 29:36
2nd Lady Karen Ballantine 30:39
3rd Lady Jane Leonard 31:26
1st Vet 50 Male Martin Roberts 26:52
1st Vet 40 Female Louise Abdy 35:38
1st Local Man Pete Dimitrijevic 25:38
1st Local Lady Sue Roberts 37:11
Bob Beattie
C & L Herd Butchers
Co-operative Food
Creative Hearts
Digital Nomads
Ellisons Butchers
George Emmott (Pawsons)
Green Thumb
J A Bailey
New Coley Nurseries
Old Oxenhope Farm
SMJ Falconry & Crafts
Timothy Taylor & Co.
Unique Unisex Hair Studio
Upwood Holiday Park
Whitakers Animal Feeds
The Millennium Green Trust maintains the Green for the enjoyment of all living in or visiting Oxenhope.
Sponsorship income and proceeds from other donations and raffle ticket sales at the fete on the Green create an operating surplus that is used to offset routine maintenance costs.
The surplus is put towards the costs of routine grounds maintenance including grass cutting, tree and path works, miscellaneous repairs and also offsets other costs including insurance.
The Trust does not receive routine funding from Bradford Council, although it has benefitted from small grants from time to time to assist with essential repairs and improvements.
If you would like to make a donation you can do so by making a BACS payment using sort code 30-91-12 and account number 03290973.
If doing so please contact us by email to confirm the donation made.
Many thanks for your support.